Bob Burnett:
Saxophonist Fred Anderson and drummer Hamid Drake have had a thirty year relationship in music together in Chicago. On
From the River to the Ocean
they are joined by Tortoise and Isotope 217 guitarist Jeff Parker, Town and County's Josh Abrams on bass and
guimbri
and Chicago legend Harrison Bankhead on cello, piano and bass.
From the River to the Ocean
is another excellent example of the cross-current of thriving, far-reaching music coming out of Chicago these days—from Wilco to AACM the music is conversant, communicative and alive.
I think an appreciative nod needs to go to Thrill Jockey for being a label open to releasing music that touches on a broad range of artistic directions. This album is a shining example. There are five lengthy pieces on this album; from groove-based to improvisational to introspective. All feature an exuberant level of creativity. The players give each other ample space, listen well and create thoughtful moments of appealing collaboration. I'm reminded at times of
Jack DeJohnette's New Directions group
from years back when DeJohnette, John Abercrombie, Lester Bowie and Eddie Gomez had a great thing going. Other moments makes me think of
Don Cherry's meditative masterwork

Brown Rice
. (Most notably on "For Brother Thompson" a stirring tribute to Malachi Thompson)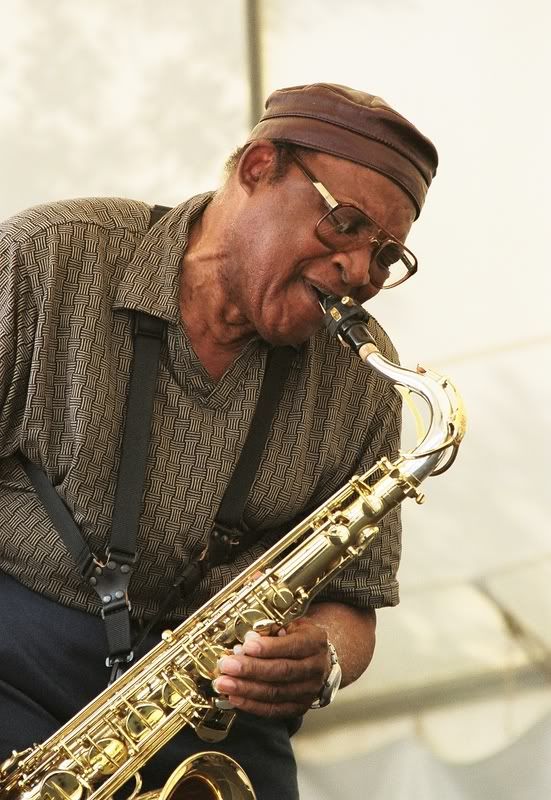 Although Anderson and Drake are in the forefront and are exceptional, I want to shine special attention on Jeff Parker's guitar playing for a moment. He brings great, understated sensibility to this album. I know he's capable of some moments of rigorous playing—Tortoise offers ample proof—but he also has the gift of knowing how his sound and tone and restraint work to support and benefit the music happening around him. I'm also quite fond of his solo album
The Relatives
. I especially like his elegant support of Anderson's soloing on "Planet E" where afrobeat, bop and groove come together effectively.
I read a few reviews on this album and all are enthusiastic. I especially enjoyed
Troy Collins' on allaboutjazz.com
. He said:
"The resonant, mature beauty found on From the River to the Ocean proves that contemporary free jazz doesn't always have to burn white-hot to generate emotional heat; simmering intensity can yield the same results."
I think that's an important message—so often I see "free jazz" gets pidgeonholed as unapproachable, screaming, dead-end music. People who say that have no concept of the important things happening, like this album, that advance musical exploration.