Bob Burnett:
I've just spent the last few days in the bay area and made swings by Amoeba Music in San Francisco as well as Berkeley. I picked up a wide range of things--from Neil Young & Crazy Horse to a Criterion DVD of
Grey Gardens
. I'm sure your own personal bin scanning and buying excurions to great stores like Amoeba brings you offerings performed on guitar, piano, possibly saxophone and maybe even a theremin or two--but how're ya doing with accordion? Now you can say "well--quite well thank you! I just bought some Guy Klucevsek and the Bantam Orchestra!" I've been meaning to mention this album for some time. Yesterday, I flipped by it in a bin and reminded myself to write something up because it's something to keep an eye out for.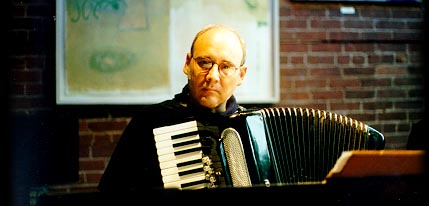 Guy Klucevsek is a master of the Titano Royal Converter Piano Accordion --he's comfortable playing "straight" but where he really shines in his ability to bring the avant garde to the accordion. He's been a "downtown music" guy for a long time-playing with innumerable players in NY's adventurous music scene. If you want to know more
check out his webpage
. One album in particular that I enjoy is
Stolen Memories
which is a quartet that goes by the name Bantam Orchestra. The Bantams include Achim Tang on bass and sisters Sara (violin) and Margaret (cello-voice) Parkins along with Klucevsek on accordion, piano and melodica.
Stolen Memories
is a chamber effort--it moves effortlessly from soft, floating klezmer music to minimal avant garde-tinged compositions. "Wave Hill" is a particularly striking Eno-style composition where chord patterns and melodies gently overlap in a peaceful manner. I also enjoy
Tesknota (for John Cage)
a long, fluid, drifting compositio
n.
In fact, since we're on accordion and John Cage, Teodoro Anzellotti created
Three Compositions by John Cage,
a beautiful solo take on Cage that I suggest looking into too if you enjoy Cage solo piano such as
Sonatas and Interludes
or
The Seasons
.
Time to catch a Jet Blue plane and watch the US Open.